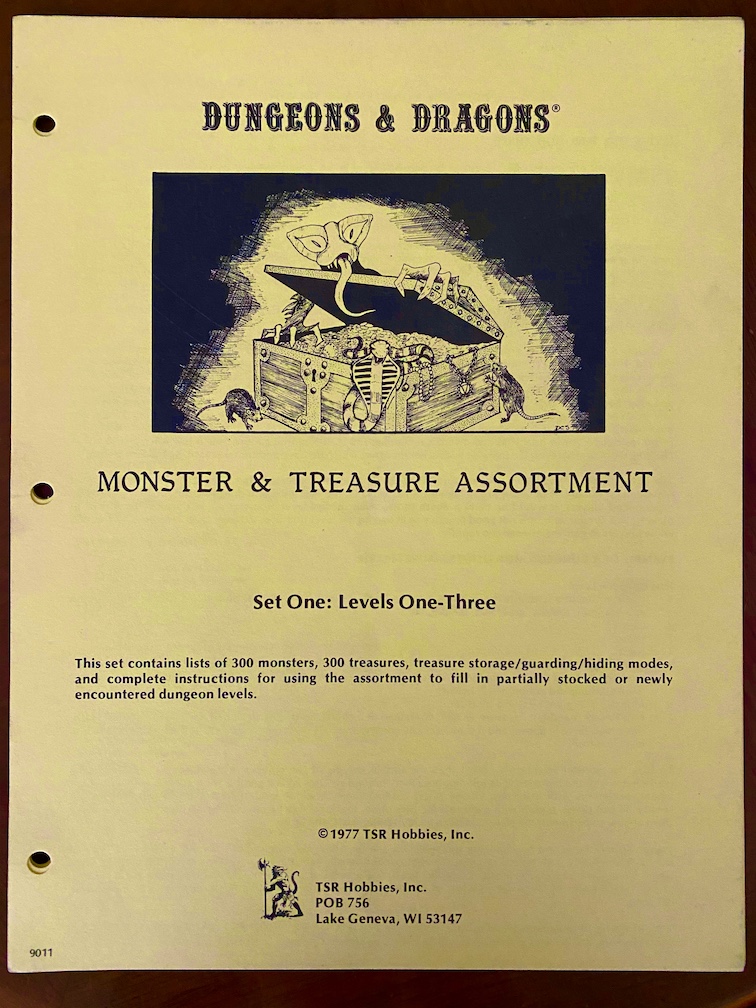 It's a list of monsters. And a list of treasure.
No seriously. That's about it.
Ok, so I guess if we consider when this came out, there were no published adventure modules, so you had to come up with your own dungeons, and I guess this made it a bit easier.
Apparently most of the content was randomly rolled up by Gary's son Ernie Gygax when he was about 16, as recounted here and here.
The need for these would later be replaced by the tables of random monster encounters in the back of the 1st edition Dungeons Masters Guide.
Illustrations
The cover illustration is by Dave C Sutherland and although none of the internal illustrations have signatures, I suspect they're all by him.
Date Information
Enworld has a date of February 1977. The copyright information, as Zenopus states, says February 15. I am going to ignore these! The copyright was retroactively registered in 1982 and I think it was done in error.
Looking at periodicals from the time we have the following:
Judges Guild Journal – issue L, April/May 1977 does not list this item. It only lists Dungeon Geomorphs Set 1
Judges Guild Journal – issue M, June/July 1977 states "Just released… the first 'Monster & Treasure Assortment – Set One: Levels 1 thru 3′". Also in this issue, Dungeon Geormorphs Set 3 has just been released and Dragon #7 (June) is available in the Booty List. This give an indication of when this was published.
For comparison, White Dwarf is a bit behind the times, being in the UK. Issue 2, August/September lists Dungeon Geomorphs 3 for the first time along with Dragon #7. It's only in issue 3, October/November that it has M&T1 available.
From White Dwarf it was plainly after Geomorphs 3. From Judges Guild it was around the same time. So chronologically, I'm placing this after Geomorphs 3.
So, it could have been June when this was published, but I'm going to lump it in to May along with Geomorphs 3.