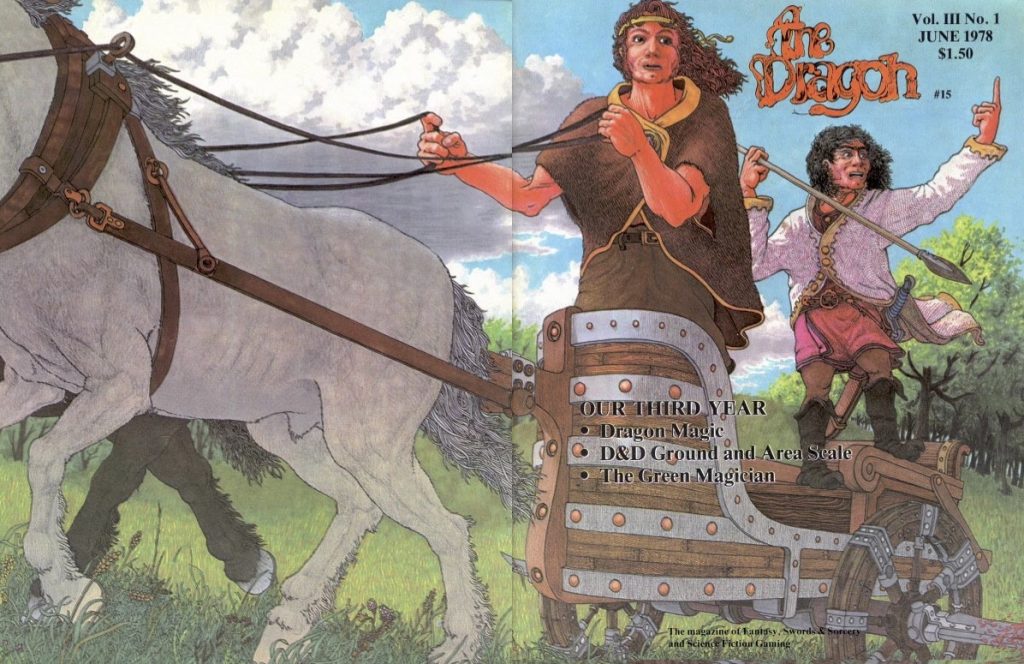 What's new?
A wraparound cover image! So normally I really like Dave Trampier's art, but I'm gonna say, this cover is not his finest work. I mean, everything's fine, it's just the faces are kind of creepy.
Also the centrefold of the magazine is a backgammon table drawn by Tramp. You can't see it in the pdfs on archive.org but there's a picture of it here on Dungeoneers Syndicate: https://dungeonsyn.blogspot.com/2018/07/the-dragon-magazine-15-1978-david.html
The editorial mentions that Quag Keep is out. Also that a "Best of" Dragon should be out in time for Gencon in August.
An ad announcing the AD&D Players Handbook will be available at Gencon! And on the same page the announcement of Gamma World at Origins has it in the logo typeface.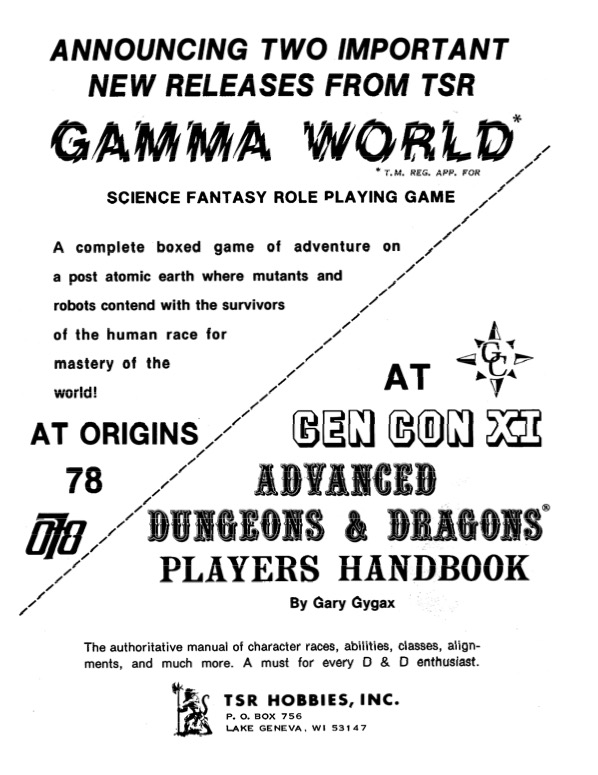 Articles
James Ward talks about wandering monsters and how, as a DM, you can prepare things ahead of time – he provides an example table of monsters with pre-rolled hit points etc
Gygax talking about the origins of using feet in dungeons vs yards outdoors – most of the article is pretty tedious but the first couple of paragraphs are some great history about the Castle & Crusades Society and the progression from that through to Chainmail and then D&D
Variant articles
dragon magic – a bunch of special spells just for dragons
randomised tables for determining what's in a pit – if you're lucky, you may find a hatmaker or beer merchant! What the?
randomised tables for settlements – perhaps there was recently a flood or an uprising in the town your PCs are travelling through – can add a lot of flavour
randomised tables for weather and possible outcomes like flu – yep, we're all about the randomised tables in this issue!
notes from another barely successful D&D player – a very small list of dubious ideas